BASGAMES GFA 2 12.3.2023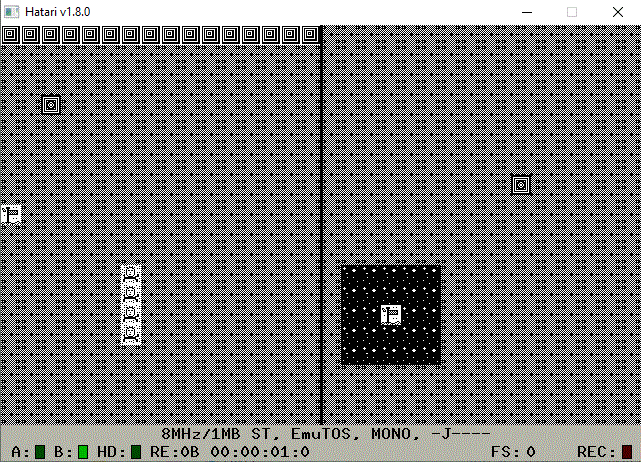 Small update of BASGAMES GFA 2
2.5.2023
AFLIP2C.PRG and AFLIP2D.PRG added in AFLIP:
Use x and m or the cursor keys in AFLIP2D.PRG to move the paddels independent of each other.

You can find 25 games for ATARI ST mono emulators in this package. They all existed as Omikron-Basic programs and were converted to GFA-Basic in March 2023. This took twelve days, mainly because if statements had to be rewritten. The compiled GFA-Basic programs (.PRG) run with hatari 1.8.0 and its built-in EmuTOS-image and with Steemv3.2. This was the main reason for the conversion.

hatari-download: https://hatari.tuxfamily.org/download.html

Running the games with hatari (in 2023):
Download hatari (a .zip) and extract the files to your hard disk. Extract the files from BASGGFA2.zip to the folder with the hatari files. Start hatari.exe. Press F12. Select "Hard disks". Select "Browse" next to "GEMDOS drive" and select the folder with the files from BASGGFA2.zip. Choose "Back to main menu". Select "Reset machine" and "OK". Double-click "DISK C" and select a game-folder with double-clicks. The program file of a game (.PRG) can be double-clicked to start it.

Steemv3.2 download: http://steem.atari.st
You can use the TOS-ROMs tos1.02de and tos2.06de and perhaps also other TOS-ROMs.
You can also run the games with Hataroid with its built-in EmuTOS-image on Android devices.

The games contained in this package are
4BREAK, AFLIP, BOMBY, CYCLE GRAVITY, DYNATARI, GALAXY, GALAXY2, GLIBBERS, INVASION, MIR97, MOVATARI, MPOINT BASE, MPOINTE, PAC4TWO, PACFULL, SCROFIRE, SIMCLONE, STARBREAK, SUNSYS, TRIGAME, TRIGAME LINES, XBALLLAT, XPOINT DIRECTION, XSPACE ATARI and XWORLD2.
There were nearly no features changed. GALAXY lost its sound output and has got a multiplayer-mode, where multiple players play the same game with their own data sharing mouse and keyboard round-based. The winner defeats the aliens first or is the last player, which lost this game. Two players can additionally play INVASION, because keyboard commands for two players were added to this shooting game with mouse-steering. A two-player-mode was also added to the games CYCLE GRAVITY, DYNATARI and XPOINT DIRECTION. GLIBBERS, PAC4TWO and XWORLD2 were already two-player-games.
GALAXY and SIMCLONE are the only games, which require, that you are familiar with the German language. These are strategy games.
DYNATARI, GALAXY2, INVASION and MOVATARI have the most performance problems. AFLIP2B.PRG is scrolling acceptable but not perfect. MOVATARI would be hard to win, if there were more frames per second. You can chose a 32 MHZ CPU in hatari 1.8.0 or Steemv3.2.

There are JAVA-versions of the games BOMBY (MadWars application and applet), CYCLE GRAVITY, DYNATARI (DYNAMITE), MOVATARI (MOVE 3D), MPOINT BASE, MPOINTE (MPOINT ENERGY), PACFULL (PACRUNNER2 and PACFULL WORLD), TRIGAME, TRIGAME LINES, XBALLAT (XBALL), XPOINT DIRECTION, XSPACE ATARI (X-SPACE) and XWORLD2.
GLIBBERS is similar to Quickworms and INVASION is similar to Darkwar. STARBREAK can be found in BrowserBasic2.05 or BrowserBasic2.05dp. XPinball3D and XPinball3D2 simulate a flipper similar to AFLIP2B. They are written in 3D and provide more than one steering key, but they also use stones to fill the levels and the physics simulation is nearly the same. PACRUNNER2 includes a two-player-mode, so playing it is like PAC4TWO.
These JAVA games must be downloaded separately from the Astro Solutions homepage (http://www.astrosolutions.de).